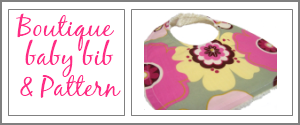 Making a fun and functional boutique bib can make a great gift for a friend or for your own baby! I love to to mix and match fabrics to come up with something really unique and special. You can use chenille, fleece or backing of choice. Everyone knows someone having a baby, skip the registry and make that special gift! I have included my pattern for you to use. As well as instructions to make it!
Here is what you are going to do. First print both pieces of the pattern found here and here. Cut and trace onto fabrics you are going to use.
Place right sides together and iron then pin all the way around. I use a 1/8 and sew all the way around leaving a 2 inch hole for turning. Before turning I carefully cut all corners all the way around,
Turn inside out and carefully make each corner as crisp as you can. I use my scissors but I would not recommend this as I have on one or more occasion blown a hole right through the fabric. I find an iron is really good as I find it helps with the detail of the topstitching.
I use about a 1/8 inch top stitch all the way around, starting and ending with the turn hole. I find this is the best place to show detail, you can be creative using decorative stitching, contrasting stitch colors. Choose a great contrasting thread if you are confident in your stitch abilities.
These are super adorable and durable. I love making these for my friends and family and even my own babies.